The Advantages of sponsoring the MARS team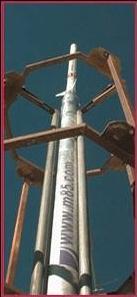 The MARS group's activities have traditionally been self-funded by the members of the team themselves. However, as the team's goals have expanded and the cost of each project has increased, the team have increasingly found it neccesary to seek corporate sponsorship to fund the group's activities.
MARS have been running sponsored projects for several years now, and have received nothing but positive feedback from our sponsors for the massive media exposure they have received, through the funding of the group's record-breaking activities.
As we rapidly approach the point where the group will be capable of placing payloads into space, the team's profile and exposure is increasing at a massive rate, and so the opportunities open to potential sponsors to piggy-back on that exposure are also expanding.
Listed below are some of MARS's media appearances over recent years, clearly demonstrating the potential cross-media exposure available to sponsors of the MARS team. Should you be interested in receiving further information about sponsorship opportunities with MARS, please contact us.
date
details
September 2003
MARS high altitude attempt
Hobby Space Online
June 2002
Hybrid Success for British rocket
BBC News Online
November 2001
British experts claim rocketry success
BBC News Online
November 2001
Independent Magazine
May 2001
Discovery Channel
November 2000
'NOW.com' documentary
October 2000
Rocketeers smash UK record
BBC News Online
October 2000
Rocket team claim record success
BBC News Online
October 2000
London Tonight
October 2000
BBC Radio 1
October 2000
BBC News 24
October 2000
Virgin Radio
October 2000
Radio 5
October 2000
Discovery Channel
October 2000
Evening Standard
October 2000
The Times
October 2000
The Guardian
October 2000
Independent
September 2000
MARS attacks rocket records
BBC News Online
September 2000
Harrow Observer
September 2000
BBC Newsroom Southeast
March 2000
BBC Tomorrows World
November 1999
Sky TV
June 1999
Independent
Early 1999
Innovations
July 1998
Newsroom Southeast
July 1998
Pinner Observer
July 1998
Harrow Observer
July 1995
BBC Newsroom Southeast
July 1992
BBC 'Newsround'
March 1992
Harrow Observer