The MARS team is a close-knit group of friends that has grown over the last decade to become the most experienced and technically qualified team of amateur rocketeers in the UK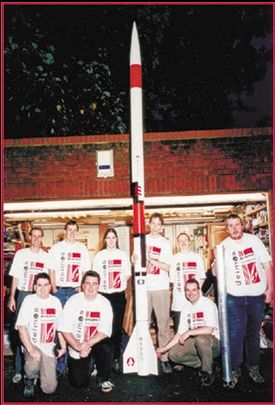 The MARS team has no perpetual management structure or hierarchy, allowing the group to operate in a fluid and reactive way, where every team member's ideas on a subject are just as valid as any others, irrelevant of their background and experience. This loose arrangement allows us to think "out of the box" and find innovative solutions to problems rapidly.
The core team in MARS is made up of a group of around fifteen to twenty highly experienced and committed indviduals with a combined 150+ years of experience in amateur rocketry. The team has come from varied commercial backgrounds including IT, Internet development, Design, Aerospace and Electronic Engineering. Every individual brings a different and vital skill set to the team, and with it a different array of experiences to draw upon.
Where many serious amateur rocketry teams fail through either an excess of management and structure, or the overbearing influence of a single ego, the MARS team have grown into a strong and coherent team who work well together, and always manage to get the job done, often despite tight deadlines and against the odds.
If you are interested in becoming involved with MARS, please feel free to contact us.