Deimos Odyssey Postponed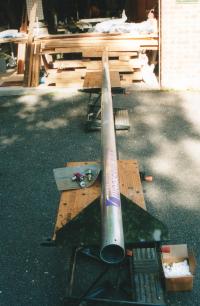 Those 'in the know' will be aware that MARS were planning to launch a very large hybrid altitude record attempt in the Black Rock desert USA over the weekend of 29th/30th September. Unfortunately, due to the events of September 11th in New York the flight crew had to make a very hard decision and called off the trip at the last minute.
This has been a major blow to the group who were within a matter of days of having the Deimos Odyssey rocket ready for flight, however logistically and ethically too many doubts were cast on the project and the trip by the terrorist attacks and so we felt it better to postpone the launch until a later date. MARS members will be kept updated on the project and the planned UK test launch as things develop.